The world has changed, and digital transformation has given rise to new ways of selling, including remote selling. Like it or not, the way of working has changed and with it the way of selling. These days, most companies do business online or over the phone and remote selling has become one of the primary methods of business interaction. But to be successful it's important to recognize the current historical moment and reinforce some essential skills.
Remote selling is the answer to the urgent need for change
The third edition of the "State of Sales" report prepared by Salesforce 1 in 2018 outlined how, before the Covid-19 emergency, a salesperson spent 32% of their time virtually meeting potential customers. Today, post-pandemic, the McKinsey Institute 2 reveals that 95% of B2B salespeople have begun, at least partially, to establish remote business relationships and 80% now sell almost only through online or telephone meetings. All steps of the sale – which had previously been conducted live – can now be performed remotely, from identifying new suppliers to reordering a product/service. Some of these actions, with the technological advancement of online platforms, can even be performed by the customer independently. Below there's a graphic that shows the current way of interacting with suppliers' sales reps during different stages.
% of respondents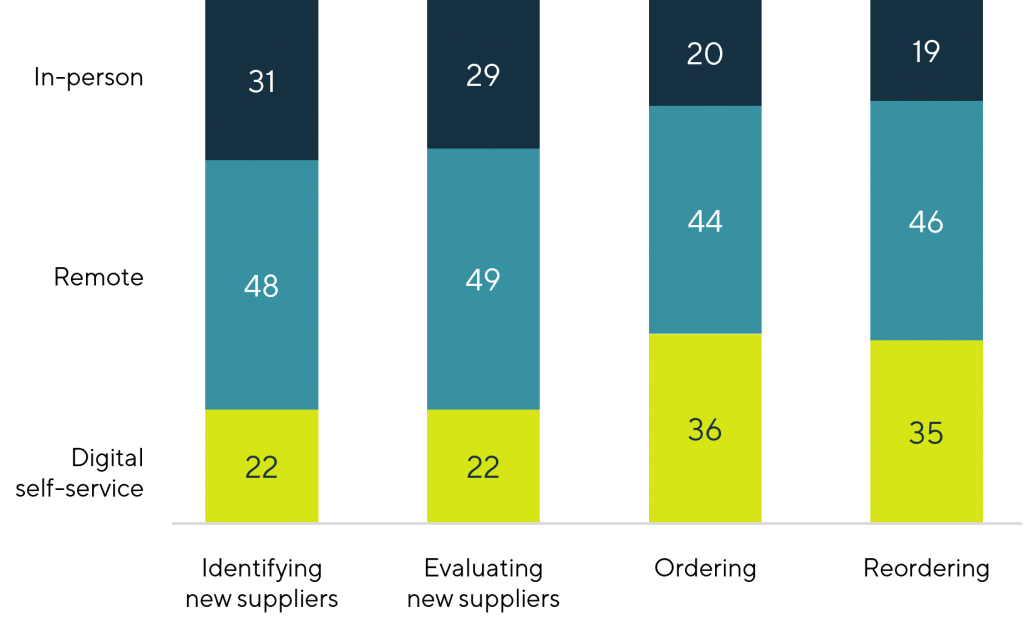 But the even more surprising aspect outlined by the McKinsey Institute is that remote selling has become the preferred method for 70-80% of decision makers in the B2B sector. In fact, remote interaction with sellers (or performing some of these operations independently) has produced a number of advantages for customers that they might find difficult to give up. For example:
the ease of organizing appointments
savings in travel and transport costs
the confidence of being able to perform activities even during a health emergency
These new ways of interacting are part of the digital transformation phenomenon and are probably destined to become an integral part of every business strategy even after the health emergency is over. Some will adopt them entirely and regularly and some will introduce them following a hybrid online/offline model, but one thing is for sure: distance selling has become an essential way of doing business. So, let's find out what key features and new skills to learn and implement for remote selling.
How to best manage remote selling: the main operational skills needed
Remote selling must examine factors that were not really taken into account for face-to-face meetings. Using new technologies, for example, is a key factor of remote selling and must be handled with competence. Tools to be used, including a virtual room and online presentations, must be prepared in advance. Training on customer needs in advance is another crucial element (also important for live meetings) and with digital technology it can be improved and thoroughly examined thanks to the information available online. The ability to manage an online meeting must also be considered; making the most of all tools that will facilitate conversation, such as a meeting agenda, a virtual checklist, or spot-on slides to keep the customer engaged.
Soft skills for remote selling
In addition to operational skills there are some soft skills that must be taken into account to ensure the success of a meeting. Since business exchanges do not take place in person, listening and customer care become crucial. In the absence of body language, asking the right questions to better understand every need is fundamental. It's also helpful to communicate with emotional storytelling to overcome distance barriers and bring interlocutors closer thanks to shared emotions. Flexibility and patience are, in fact, two other soft skills that should not be underestimated. The customer may often not be used to this type of sale and may need to be convinced and reassured in more welcoming ways than those used during a live meeting.
How to be a good salesperson (but with a few additional skills to excel in remote selling)
Remote selling skills are important in order to always get the most out of online performance. The time is ripe for companies and sales representatives to treat distance selling as an essential method to be adopted without geographical boundaries. Remote selling can certainly meet many of the requirements resulting from the recent pandemic and it's important for modern sellers to acquire all of its secrets, learning the skills with a winning strategy.
Next steps
Are you interested in a training course that reinforces your distance selling skills? We have what you are looking for with our "remote selling" training. Download the training presentation and don't hesitate to contact us for further information!
References
1 Salesforce (2018). State of Sales Report, 3rd edition. State of Sales Report – Salesforce.com
2 A. Amat, L. Harrison, D. Spillecke, J. Stanley (2020). These eight charts show how COVID-19 has changed B2B sales forever. McKinsey Institute
How COVID-19 has changed B2B sales forever | McKinsey