Digital learning: overcoming the barriers of space and time
Our days are busy, and our lifestyles are hectic. Wake up, coffee, internal meeting, customer call, boss meeting, presentation writing, lunch and then more calls. When we get home, we just want to switch off. Everyone has certainly had a full day with non-stop work commitments and without a clear mind to dedicate themselves to a learning path to improve their professional skills. In recent years the time issue is a problem that has been felt strongly in the world of corporate training. It has been the 'Sword of Damocles' not only for professionals, but also for trainers and HR representatives who must create learning paths that fit in with the roadmaps of their colleagues.
The learning path – Step by step
Before finding out how to solve the question, let's think for a moment about the definition of a learning path. According to J. Williams and S. Rosenbaum, two of the most authoritative voices on corporate training methodologies, the learning path is: "A sequence of learning activities to guide the worker to achieve optimal competence on set objectives in the shortest possible time". 1 To achieve the best results, learning should therefore occur: as a step path where learning times are defined and measurable. But how can we integrate this path into the workflow? How can we support modern workers to focus on a learning path that keeps up with their own pace? Let's see.
The learning path – a matter of time
The problem of time had already been covered in 2018 by LinkedIn in its annual "Workplace Learning Report". 2 4000 professionals replied that: the no. 1 reason for the lack of involvement in corporate training was lack of time. But 94% of respondents said that a career development incentive would certainly ensure greater loyalty to the company in the long run. When answering what were their preferred learning times, interviewees said that: 68% preferred to learn in their working hours, 58% to learn at their own pace, 49% in time of need.
The learning path – what has changed
The time issue is undoubtedly linked to the changes in our society. The advent of digital technology has unconsciously changed our perception, leading us to assimilate information in ever faster ways. Our concentration has also been influenced by speed which leads us from searching for answers by studying books at length to finding information online with a simple click3.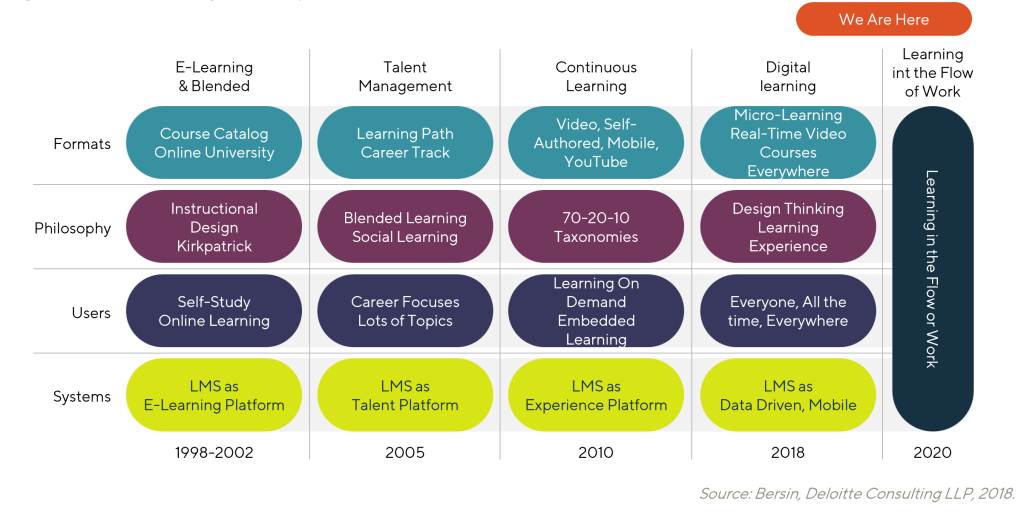 The training methods had to adapt to the course of events and since the end of the 90s technology has paid off in the sector, by integrating the online with the offline and introducing the first e-learning and blended courses. From 2000 onwards there was a real progress of formats where user autonomy was at the core. "Digital learning" has gradually blossomed with increasingly innovative, short-term, effective and straight to the point modules (micro-learning). Of particular impact is that content is now available anywhere (computer, tablet, mobile) and at any time. The learning paths have begun to adapt to our work schedules and have become part of a real-time flow. Here we are in a modern learning experience that exploits all the digital formats we are surrounded by, from videos to podcasts, from social networks to gamification. Here we are in the era of learning in the flow of work.
The learning path – in the flow of work
Now it's up to corporate training representatives to meet that challenge. Those who look to the future realize that the learning path must be integrated within workflows and time schedules – but also with changing lifestyles.
This is certainly a challenge, but also an opportunity to build programs in line with our age: to provide short and effective micro-learning information that is always available. Content to read, view or listen to between a coffee and the start of a meeting, on a lunch break or on the subway, and with formats that we use in everyday life, easy and resolutive. In short, a learning path that respects our busy days, that brings professional growth one step at a time and that above all flows with us and with our flow.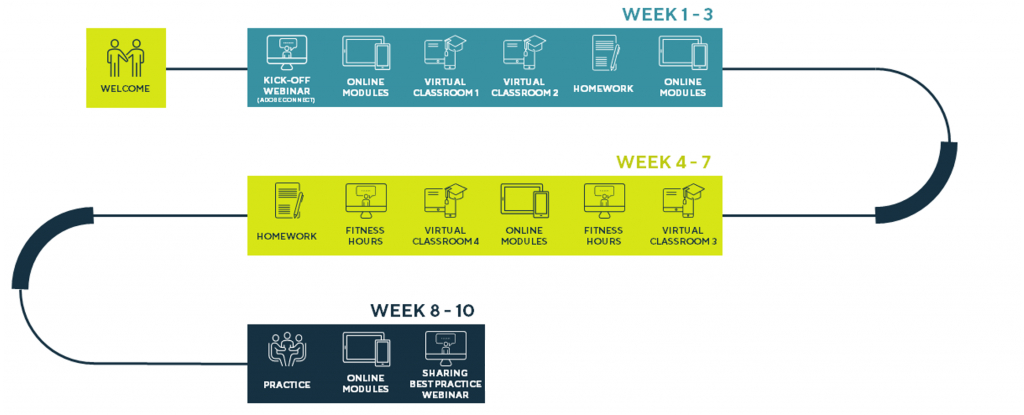 References
1 J. Williams; S. Rosenbaum (2013). Learning Paths – Increase Profits by Reducing the Time It Takes for Employees to Get Up–to–Speed. John Wiley & Sons
2 LinkedIn Learning (2018). Workplace Learning Report. California: LinkedIn.
3 Josh Bersin (2018). Deloitte Consulting.