How the trust of companies and individuals grows when upskilling programs guarantee constant improvement.
If with gap skilling you jump from a current level of awareness to a desired one, with upskilling the step is even longer: the leap is towards the future. Reshaping and improving the skills of workers to reach new trends is becoming a priority which is increasingly recognized at an international level. The World Economic Forum 20201 warned that by 2030, around one million workers will need to review their skills to adapt to new market models. And it's within this context that corporate training will play a decisive role. HR and trainers from all over the world will have to accompany and support this transition, leading employees to be increasingly evolved and talented.
Improvement as a necessity
The technological revolution is certainly the first factor that stresses the need to re-evaluate traditional skills so that they can evolve into progress-oriented and digital skills. But it's not just technology – even new economies (such as care or green economy) now clearly need new skills capable of supporting the market. Covid-19 is certainly another factor that has accelerated the need for companies and employees to adapt to totally unexpected changes. But even before the pandemic there were some who invested millions of dollars in reskilling and upskilling programs, such as Amazon ($700 million) or Mastercard, which since 2016 has been carrying out re-training plans to keep up with start-ups and competitors.
Upskilling means trust for companies
PwC, in its 23rd Annual Global CEO Survey2, reveals how the same corporate executives who invest in upskilling programs for their employees are extremely confident in revenue growth. To the question: "How confident are you that your company will grow in the next 12 months?", 38% of CEOs surveyed who had a structured upskilling plan said they were extremely confident – while less encouraging were the replies of CEOs with an embryonic upskilling plan. This suggests how a clear path towards the improvement of one's resources also builds tangible certainties for the future.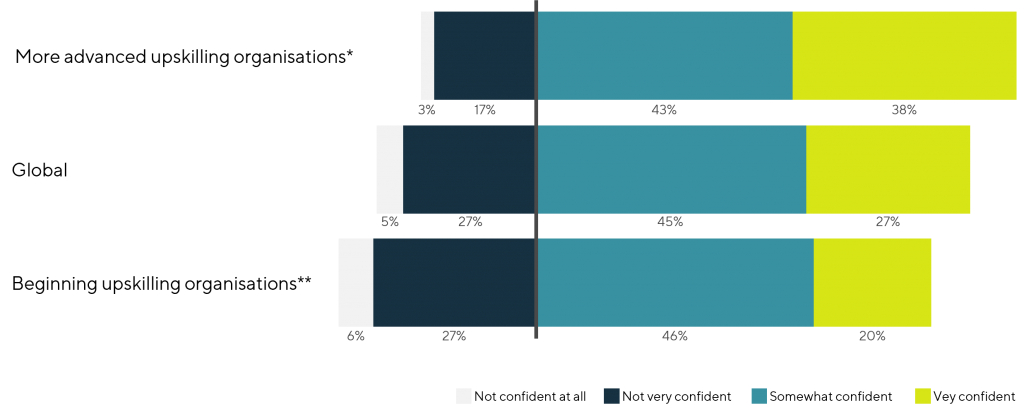 Another important point reported by PwC is that 41% of the CEOs interviewed acknowledged that upskilling programs are effective not only in improving skills, but also in creating a stronger corporate culture and employee engagement. While 74% thought that key skills are still very difficult to find, a great number of companies are not yet investing enough in upskilling policies, or even believe it is not their responsibility to provide vocational improvement for their employees.

Upskilling means trust in individuals
It's actually corporate employees who derive the most benefits if involved in skill upgrade programs. These incentives not only help companies to have confidence in their growth, but they drive employees to be more confident in themselves and their skills. PwC also offers this insight – out of 22,000 people interviewed (Hopes & Fears Survey, 20193), 77% of them confirm how improving their skills would help them feel more suitable for any job challenge or market request.
The role of training
Trainers and HR help the two worlds of company expectations and employee expectations meet. On the one hand, companies that have not yet started upskilling programs need to change their mind without believing that it's only the responsibility of employees to improve themselves. On the other hand, employees who wish to acquire new skills must accept company training that encourages them to believe in continued improvement. The role of HR is to become aware of this gray area between employees and managers, weighing the right action to lessen problems in the long term.
To sum it up
Creating skill-improvement training programs allows us to get ready for changes over the coming years, whether these are technological or caused by unexpected events. Both business organizations and employees themselves wish for constant growth to prepare them for any challenge. Training can only lead to a bright future.
Next steps
And to find out how upskilling programs and those designed to boost sales skills can help achieve important goals, click here to read the case study of a client with whom Mercuri has collaborated. And for any questions you might have, don't hesitate to contact us.
References
1 World Economic Forum (2020).
2 PwC Research (2019). 23rd Annual Global CEO Survey. PwC
3 PwC Research (2019). Hopes and Fears survey: PwC